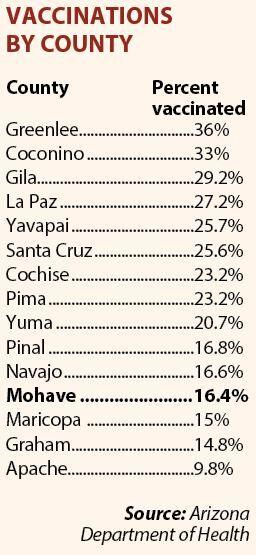 The Mohave County Health Department announced Friday that the county will expand its vaccine effort to include the 55 and older 1B subcategory starting immediately.
"The time has come to open the 55 Years and Older 1B sub-category to those residents," Mohave County Public Health Director Denise Burley said. "Our providers are ready to accept appointments for this younger age group."
Next week Mohave County will receive 10,000 doses of the Moderna covid-19 vaccine, a 2,000 increase to the county's previous weekly allotment. The county will also be receiving 500 doses of the Johnson & Johnson vaccine. It will be the largest allocation of doses that Mohave has received yet.
Arizona started to vaccinate people 55 and older at the beginning of March but limited allocation of the vaccine to the county, preventing Mohave from moving to that subcategory until now.
According to the ADHS covid data dashboard, Mohave County has a vaccination rate of 16.4 percent placing it ahead of three counties; Maricopa (15 percent), Graham (14.8 percent) and Apache (9.8 percent).
Mohave County previously had the second worst vaccination rate in the state but the steady increase of vaccine allocations and mass vaccination events like this week's clinic at Lake Havasu Fire Station has helped address that problem.
"The increase we have gotten from the state along with the vaccinations that we have already given out to the 65 and older subcategory has really helped bring demand down," Mohave County Communications Director Roger Galloway said.
Next week's increase to 10,500 doses helped the county make the move to the 55 and older subcategory much quicker than they had originally thought possible.
"We didn't have a definite date but we were at least a few weeks out from moving the next category before this," Galloway said.
Galloway says that while the county has no control over how many vaccines the State gives them a week, they certainly hope it continues to rise.
In related news, Mohave County reported 87 new confirmed covid cases and two deaths on Friday. Of the 87 new cases, 38 are from the Lake Havasu City area.