More than 30,000 area residents and winter visitors will invade the downtown business district this weekend when they attend Lake Havasu City's premier winter event, the Winterfest Street Festival. Now in its 35th year, Winterfest is an all-encompassing event that provides a fantastic shopping opportunity combined with fun for the entire family. 
This year's event is Saturday from 9 a.m. to 5 p.m. and Sunday from 9 a.m. to 4 p.m.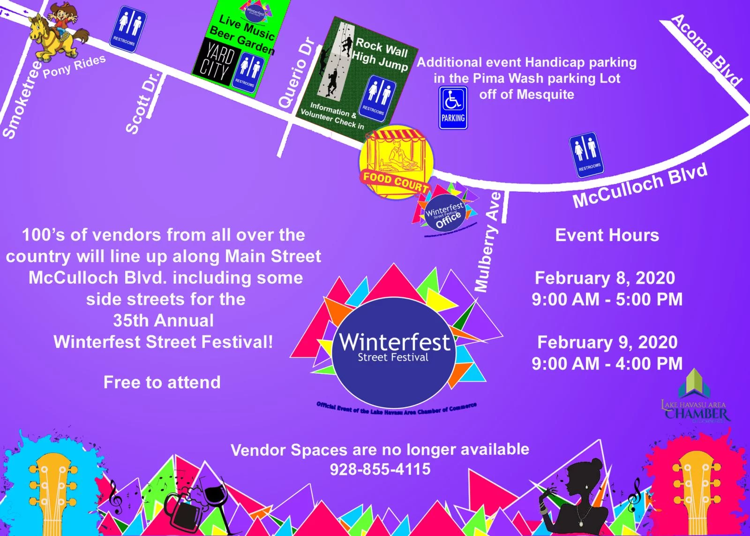 The popular street festival features hundreds of craft, information, commercial and food vendors nestled on McCulloch Boulevard between Acoma Boulevard and Smoketree Avenue.
Live bands will play in the beer garden located in the newly built "Yard City" located at 2101 McCulloch Blvd both Saturday and Sunday. Main attractions include The Borrowers and The Riptides.
Vendors will offer a wide variety of items including fine art, crafts, jewelry, bed linens, home décor, automobile products, and more. Fair foods are also a highlight of the event, and visitors will find everything from hot dogs to smoothies and everything in between. The food court area is located midway along the route.
The Lake Havasu Area Chamber of Commerce worked with the local committee for limited mobility/ADA issues to provide 10 additional parking spaces for people with disabilities. The temporary parking spaces, located in the area of Querio Drive and Mesquite Avenue, are available for use throughout the weekend.
Baby, it's cold outside! At least by Lake Havasu City standards. For our winter visitors, many of them from the frigid Midwest, this weekend will be downright cozy and comfortable. The National Weather Service is predicting sunny weather on Saturday and Sunday, with a high of 74 degrees on Saturday and a low of 50.