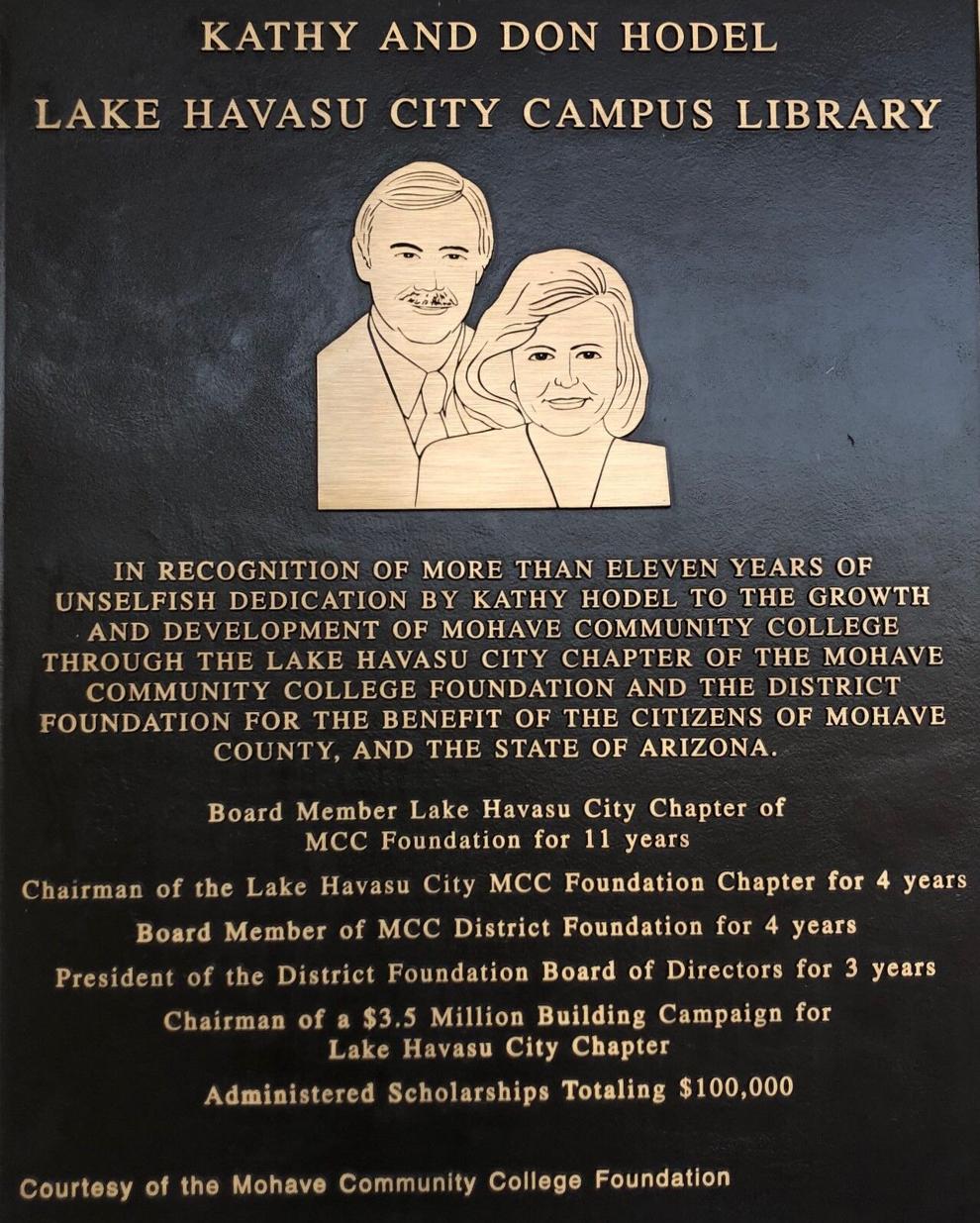 Don Hodel spent more time in the bedrooms of starlets than Richard Burton. The owner of American Termite Control, Don crawled under the mansions of Hollywood's elite, like Elizabeth Taylor, exterminating their termites.
Don and Kathy Hodel moved to Lake Havasu City permanently in 1991 when he sold his company. However, they often visited the city on weekends during the 70s, keeping a humongous stainless-steel trailer called a "Spartan Imperial Mansion" in a trailer park.
It's hard to measure the legacy of a philanthropist like Don Hodel, who passed away last week after a six-year battle with cancer. For the last 30 years, his generosity and benevolence have made a difference to many institutions in Lake Havasu, such as the Cancer Association of Havasu, Mohave Community College, Grace Arts Live, and the Western Humane Society.
Don would never say that, though, because he was a humble man who gave credit to others, especially to his wife of 40 years who lost her battle with cancer in 2018. Kathy made an indelible mark on Havasu through her advocacy for affordable housing, fundraising expertise, and leadership on boards and committees, and she earned many awards and well-deserved accolades.
The Hodels were a team, and though Kathy had a higher public profile, Don's behind-the-scenes support made her work possible and more effective. Community service was the family business, and Don was the silent partner, content to stay out of the spotlight.
According to a close friend, Evie Cistaro, Kathy achieved what she did because of Don. "He was her right hand and left hand and supported her in everything she did. When Kathy passed, Don picked up where Kathy left off, supporting the same causes and institutions."
Evie said Don loved to eat and loved food. Her late husband, Joe, would go out with Don to enjoy burgers at local restaurants, and Barley Brothers' Stout Burger was their favorite.
"In March 2013, Kathy was diagnosed with bone cancer and within a year, Don got cancer too," Evie explained. "They never stopped living and they never stopped fighting it. They told close friends, but they didn't want people to feel bad for them."
Hodel may have been a humble man, but he was proud, too. He was a proud patriot and proud to be an American. Don was a proud Marine, enlisting out of high school and stationed at 29 Palms as a machine gunner. He earned the Marine sharpshooter medal. He honored the flag and participated in patriotic parades with his old white '72 Ford pickup and a large American flag.
Howard Lontoc and his wife Liz lived next door to the Hodels in the tightknit neighborhood of Harvard Blvd. in Los Angeles. Howard said Don discovered Lake Havasu more than 50 years ago.
"We would travel to Havasu regularly and spend the weekend," Lontoc said. "We would water ski and thought of Havasu as our own private lake. There were hardly any boats on it. Don had three dirt bikes and we would go around in the desert. He loved to take rides to Topock Gorge in his 16-foot boat."
Lontoc recalled that cooking was not Kathy's forte. "Kathy always cooked up a bunch of chicken each week and put them in zip-lock bags and he would eat chicken every night for dinner."
One night Howard and Liz joined the Hodels for dinner at Shugrue's. "I saw Don studying the menu. I said, 'Don, what are you going to have?' He said, 'I think I'll have the chicken.' Liz and I laughed, then we talked him into getting the steak. He did and there was nothing left."
Lontoc worked for Hodel at American Termite Control for several years and said Don's clients and employees loved him. "He suggested I get a General Pest license, which I did, and started Five Star Pest Control. I'm running that business today thanks to Don. That's his legacy to me."
Don has two grown children from his first marriage, Carrie Pascoe, who lives in New Hampshire with her husband Rich and Don Jr., who has lived in Havasu permanently since 1994.
Carrie said her dad was genuinely kind and considerate. "He always tried to do the right thing. Even if it was a painful decision. He would always put other people first."
Don taught Carrie to water ski and drilled her with a phrase over and over that she remembers to this day, "Arms straight. Knees bent. Skis together."
She added that "He was a lovely, lovely man and a gentle spirit. He was a great conversationalist and loved talking to people. He had a tremendous sense of humor."
Don Jr. is handsome and looks a lot like his father. Carrie said they were two peas in a pod and could joke back and forth for hours.
"We'd go to Phoenix, take in a ball game or work on the yard," Don Jr. said, "He helped me a lot at the house I'm at now. If he could fix something he, did it himself. He knew a lot about a lot."
Jack Bender and Don were friends for 22 years, and it was a love of cars that brought them together. Bender said he adopted Don as his "big brother," and will never forget when they changed the rear end of Don's '57 Corvette. After a trip to the junkyard, they spent a typical Havasu July day sweating as they replaced the rear end. Don asked his friend if he wanted an ice-cold beer. Bender said yes, and Don pulled a couple of brews out of his refrigerator. When they screwed the caps off, frozen suds oozed out. Don lost it and fired off an expletive. It's the first and only time Bender ever saw Don get mad and use profanity. They have laughed about that day ever since.
"In 1997, the Corvette's had a body change. A group of the new models was driving across the country from a plant in Michigan to LA," Bender recalled. "The caravan of new Corvettes stopped at Needles, so Don took me in his '57 Corvette to check out the recent body change."
When they drove into Needles, all the Corvettes were lined up with crowds of guys gawking at the new models. "All the heads turned to look at us. The people looking at the new Corvettes left them and walked over to stare at Don's '57," Bender said. "Even their drivers came over to look. I turned to Don and said, 'They know class when they see it.'"
Don's iconic white '57 Corvette is immortalized on the classic car mural on Hodel Way at 2150 McCulloch Blvd., created by Tucson artist Amy Novelli. Evie Cistaro had arranged with the city to name the small street connecting the parking lot to McCulloch for one of Kathy's birthdays.
When a local magazine interviewed Kathy about her love of Havasu, she said, "A perfect day for me is to take the top down on the Corvette and ride around town with Don listening to music from the 1950s and '60s."
Nancie Echeverria, a good friend of Kathy's who lived nearby, developed a close friendship with Don in the last few years. "Nancie has been an angel to Don, taking him to doctor's appointments," Evie said. "I don't know what he would have done without her."
Echeverria, a member of the "Keep Havasu Beautiful" committee, recognized Don twice with a "Residential Pride" award for the beautiful landscaping on his two lots on Demaret. Landscaping, another one of Don's passions, could not be trusted to anyone else. He checked his 200 irrigation bubblers every day and loved nothing more than working around his yard in shirts with holes in them and knee pads listening to conservative radio programs on his headphones. His monthly water bill exceeded $400 and judging by his extensive landscape, he thought it worth every penny.
"Every day he would get a 5-inch stack of envelopes in the mail requesting donations for political causes or animal rescue organizations," Echeverria said. "He would sit down every day and write checks to some of them."
She remembered when Don got hit by a foul ball at a Diamondbacks game while eating a hot dog. "He never missed a bite! He had a legendary appetite and, in the year, -and-a-half that he continuously received chemo and radiation, he never lost his taste buds and he never missed a meal."
About 24 hours before he passed, his son-in-law Rich bought root beer and vanilla ice cream so Don could have a root beer float. He ate the whole thing and later had a Pineapple Popsicle. Carrie, who slept in a recliner next to his bed the last four nights of his life, said her dad never lost his appetite, even to the end.
He mentioned to a hospital visitor, "It's tough to say goodbye to your friends. A lot of them are coming to say good bye, but I'm glad I can say goodbye to them."
He was on 30% oxygen, according to the meter next to his bed. Even as his health failed, he continued to be a gentleman, good-humored, courteous, interested in others and mentally sharp.
Don Hodel knew as far back as January of this year that a local writer planned to write a story about him, yet he was uncomfortable with the idea saying, "Why would anyone want to read about me?" He envisioned a story about adoption and the beautiful people who chose him to be their son, Cliff and Betty Hodel.
During his final week of life, Don redirected an interview about his legacy to the couple who waited years to have a baby son, insisting that they were the real heroes of the story. He chose to exhaust precious breaths describing the character of Betty and Cliff Hodel instead of talking about himself.
Betty penned a five-page letter to "Don, Darling" on May 30, 1939, noting that he weighed 10 lbs. 4 oz when he was born on Mar. 30, 1939. The Dr. who delivered him called Don a "a budding football player." His mother noted that 50 people came to visit the Hodel's baby in the first week.
This is the last paragraph of her letter. "And hardly a night goes by that your dad and I don't stand over your crib, arms encircled, and you all tucked away and fast asleep with your little arms up over your head, and as we stand there loving you with all our hearts, we whisper about what we hope you will grow up to be like…healthy and bright, sweet-natured, friendly and well-mannered, and we know you will make us proud of you always…."
It's safe to say that Betty and Cliff's hopes, dreams and prayers for Don came to pass in a life well-lived.
Evie said Don had front row center seats for the October 15 showing of "Oliver!" and he lamented the fact that "I'm going to miss Oliver."
Nancie Echeverria visited him the night before he died and said a private goodbye, closing with words she knew he would appreciate the most, Semper Fi.
And what was on Don's mind? Nancie's cats. "How are Fluffy and Dana?"
Nancie said he used to whistle to them like they were dogs. "To this day, when I say to them, 'Where's Don?' they start looking around."
Where's Don? He's in a rescue pen with an unwanted pit bull at the humane society. He's enlightening students in the Hodel library at MCC and in the center of the front row at the Grace Arts Live, enjoying "Oliver!"
And on some beautiful Havasu day, if you blink your eyes a couple of times, you just might see Don and Kathy Hodel cruising in a white '57 Corvette with the top down listening to 50s and 60s rock and roll.