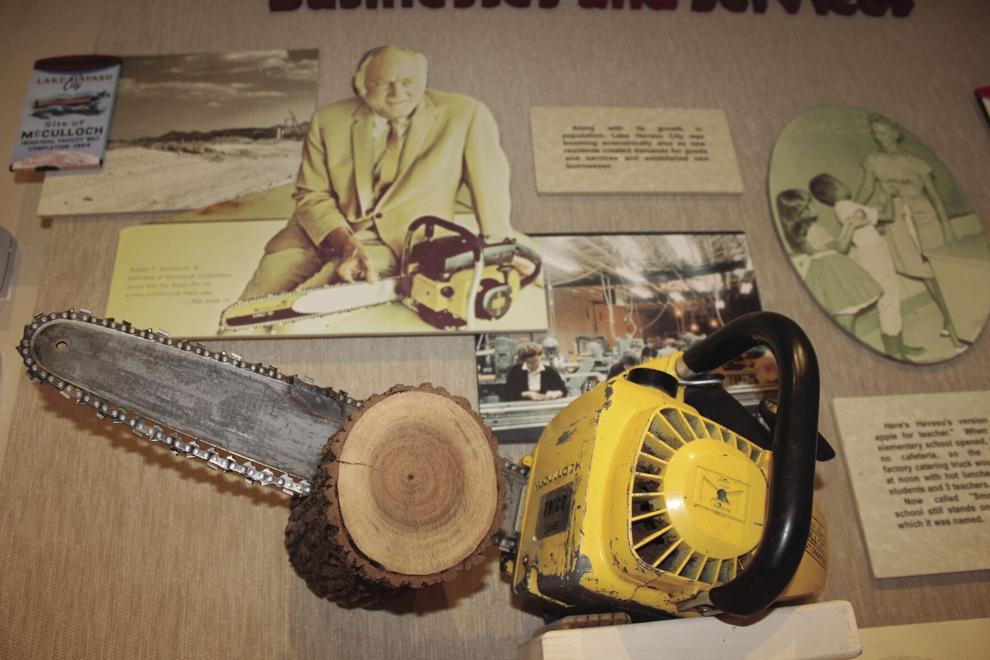 Even before the relocation of the London Bridge put Lake Havasu City on the map, the McCulloch Corporation's chainsaw factory played a pivotal role in making the brand new community a viable place for people to move by providing them a chance to earn a living in their new city. And the factory continued to serve as a major employer in town for more than 30 years.
Havasu's founder Robert McCulloch originally started McCulloch Corporation in 1943 under the name McCulloch Motors Corporation based in Milwaukee, Wisconsin. At that time McCulloch specialized in small two-cycle engines. But McCulloch moved the company to Los Angeles in 1946 and just two years later they produced their first chainsaw – a behemoth saw known as the 5-49 (5 horsepower and 49 pounds) that required two people to operate.
The next year, in 1949, McCulloch produced its first one man chainsaw called the 3-25, which revolutionized the industry by making the equipment light enough and affordable enough for household use.
McCulloch Corporation relocated the factory from Southern California to Havasu in 1964 when the development was still very much in its infancy. According to a 2018 article in Today's News-Herald, it was the very first corporation in town and the factory was fully operational by 1969. McCulloch invested $2 million to build the 500,000 square foot factory at Lake Havasu Avenue and Holly Avenue, and started hiring hundreds of workers immediately after it was completed.
Over the next 35 years many of the company's greatest innovations were designed and built right here in Lake Havasu City. McCulloch Corporation made waves in the industry in 1968 when it introduced the Power Mac 6 which – weighing 8.5 pound fully fueled – was dubbed the world's lightest chainsaw at the time.
Gary Martin, then the vice president of operations at the factory in Havasu, told Today's News-Herald in 2018 that the factory produced more chainsaws than any other company at that time – at its peak about 3,200 saw per day using two shifts.
Four years later, in 1972, McCulloch Corporation came out with an even more compact model called the Mini Mac 1, and began manufacturing electric chainsaws to go along with their gas-powered models.
Tom Belza, who worked in the machine shop at the factory for 26 years, said finding ways to reduce the weight of their signature product was always the goal.
"The whole idea is they wanted to make smaller and lighter and smaller and lighter," Belza said. "Then, when they eventually got to one that weighed less than five pounds that was the big seller. We sold thousands of them, and that was when the plant was really booming."
Belza said each chainsaw had about 50 parts and every single one was made, painted, assembled and packaged right here in Lake Havasu City.
According to the Lake Havasu City Museum of History, at its peak, the McCulloch chainsaw factory employed 10 percent of the entire population in Havasu – including men, women, and children.
Dody Lee-Hietpas, who moved to Lake Havasu City in the 1970s and began working at the chainsaw factory in 79, said pretty much every family in town back in those days had at least one person who got a paycheck from McCulloch – either from the factory or through McCulloch's real estate operations.
Lee-Hietpas said the factory itself operated 24 hours a day with three shifts – 7 a.m. to 4 p.m., 4 p.m. to midnight, and midnight to 8 a.m.
Belza said there were a lot of different positions at the factory from the machine shop where he worked to the drill press, die casting, shipping, the bar plant that made the saw blades, and more. But the majority of the factory employees were in assembly.
Although chainsaws were always the factory's main focus in Havasu, Belza said they also made other products on a limited basis – the biggest product being a bicycle. He said first they made a motor for a bicycle, then they made a motorized bicycle. He said the factory also produced generators and water pumps, and McCulloch's gyrocopter was designed in Lake Havasu City with test flights taking place around town.
Lee-Hietpas said when she first started working at the factory she was a little worried about the pay. After making $6.75 an hour working for General Electric in upstate New York, she said she was hired at the factory for $3.25 an hour in 1979. But Lee-Hietpas said she and her husband were able to make it work. She said she ended up enjoying the work, and received good benefits.
Belza said McCulloch Corporation wasn't known for particularly high pay, but the company did take care of its workers.
"McCulloch was a great guy. He didn't pay people a lot of money – he paid them what he could get away with – but he treated everybody like family," Belza said. "If somebody got sick there were stories where he would pay for them – and we didn't have health insurance back then."
Lee-Hietpas described it as a "family place to work."
"We had good times," she said. "The company would give us Thanksgiving dinners, Christmas dinners, Christmas cards for the kids, and just everything you'd ever want. The bosses would serve us our food. I would have to ask for permission, but we could have hat day on Friday as long as it didn't interfere with the machine you were working at."
"We had so much fun in that place," Belza added. "We used to laugh, we used to sing, people were very cheery."
But working at the McCulloch factory wasn't all fun, it was also hard work. Belza said die casting – where the factory formed metal into the various parts in needed, was one of the more unpleasant places to work in the factory.
"Die cast back then was a smoky, dirty place," Belza said. "It was not a wonderful place to work, but it was a necessary place to work. If you needed the money and you needed a job people worked there."
Mostly men worked in die casting, while the majority of employees in assembly were women. Lee-Hietpas started in sub-assembly before being moved to the paint line where she was eventually made the paint line leader. She said many of the people who worked in assembly back then are struggling with carpal tunnel in one or both of their hands.
"It is dirty, it's gruesome, it's hard," she said. "You fingers and everything hurt. You are on a moving conveyor line all day."
After Robert McCulloch's death in 1977 the McCulloch family continued to operate the company and the factory for several more years – but it was eventually sold to Black and Decker in the early 1980s. Despite the change of hands Belza said the McCulloch Corporation name never changed.
"It was just like Coca-Cola," he said. "If somebody bought Coca-Cola and changed their name they wouldn't sell anything."
Lee-Hietpas said Black and Decker provided the same family atmosphere as the McCullochs, and Belza said the company invested in improvements for the factory and gave the workers raises. Belza said eventually Black and Decker decided to go back to it's roots in electric tools, and sold the mostly gas-powered McCulloch brand to ShopVac.
"ShopVac made it even better," Belza said. "They spent much more money than Black and Decker did. We got better raises, we got better working conditions, the plant expanded."
Lee-Hietpas and Belza both said the factory seemed to start going downhill after ShopVac sold it. They said the factory changed hands several times in the last years that it operated in Havasu. During that time parts of the production processed were moved to Tucson and Mexico, and shifts in the economy led to some layoffs.
Still, Belza said the 2,000 employees still working in the factory in Havasu in 1999 were shocked when the factory closed it's doors without warning just after the holidays.
"I can remember going out on our Christmas holiday and coming back, and I remember the guards were out there," Lee-Hietpas said. "We didn't know what was going on. But the guards said, 'You need to go to the place you are working and clean it all out.'"
She said at first she was confused and thought perhaps they were planning to do some remodeling, but eventually word of the closure spread to the employees.
"To look at the people's faces – it was so sad," she said.
After about 35 years as the largest employer in Lake Havasu City the factory finally closed for good. But by then it had already achieved its goal of providing industry and jobs for the fledgling development. By 2000 McCulloch's other masterstroke – bringing the London Bridge to Havasu – had secured the city's future as a tourism town.