A member of the Mohave County Planning and Zoning Commission will not be removed from her position following allegedly racist remarks made through social media.
Mohave County Democrats have called for the removal of Lake Havasu City resident LaJuana Gillette, who was recently appointed to the commission by County Supervisor Ron Gould. Statements she posted to Facebook on July 29 drew the ire of county Democrats, who requested Gillette's removal at this week's Board of Supervisors' meeting.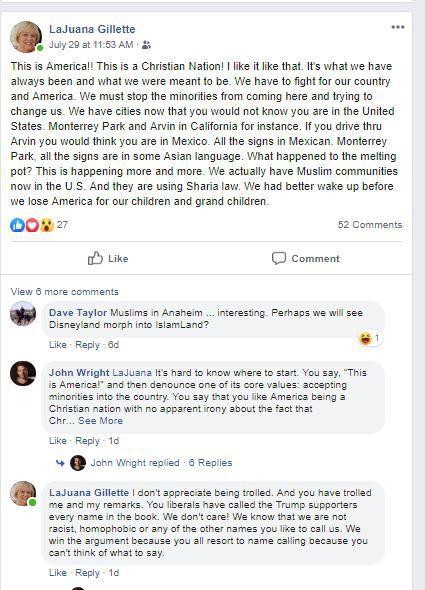 According to Mohave County statute, however, the only person who has the power to remove an appointed representative from the planning and zoning commission is the person who appointed her.
"Most of the people who spoke at the meeting were leaders of the Mohave County Democrats," Gould said Monday. "There was a lot of partisan rhetoric. I think Gillette used a poor choice of words, and I've already spoken to her about it. If it continues then yes, I'll take action. But I think it was just a poor choice of words on her part."
Gillette drew critical disdain with a post that morning in which she accused liberals of weaponizing accusations of racism for use against Republican lawmakers. But it was a post Gillette made four hours later that inspired minority activists and Democrats to prove her point at this week's board meeting.
"This is America," she posted. "This is a Christian nation. I like it like that. It's what we have always been and what we were meant to be. We have to fight for our country and America. We must stop the minorities from coming here and trying to change us."
Representatives from the Mohave County Democratic Party, as well as the Kingman Area Diversity Endeavor spoke against Gillette at Monday's meeting. Among them were former District 4 legislative candidates J'aime Morgaine and Mary McCord Robinson.
"LaJuana Gillette is serving as a public servant, so her personal beliefs become relevant when they are contrary to the values of our community and present a conflict of interest with the planning and zoning commission," Morgaine said at Monday's meeting. "There should be no place for xenophobic racism to guide and inform our county process. Please remove LaJuana Gillette from the planning and zoning commission."
According to Robinson, Gillette's freedom of speech is as sacrosanct as that of any other American citizen. Even so, Gillette's comments were cause for concern to Robinson.
"I've heard from many people in the past 24 hours at small businesses," Robinson said. "Some of them were afraid to speak for fear of retaliation to their businesses … in her position, serving the public, it gives me concern. You should be concerned, and I would encourage some serious coaching and counseling. She represents all of you when she makes those comments."
Little more than a year prior, actor and comedian Sacha Baron Cohen made a national spectacle of the people of Kingman in his TV program, "Who is America?" The episode featured an announcement by Cohen, who was in disguise, to Kingman residents that a mosque would be built within the city. According to Trecia Christophersson, statements given on the show in response may have stained the city's public image – And it's a stain that Gillette's comments have done nothing to fade.
Christophersson is the president of the Kingman Area Diversity Endeavor, a group of Kingman residents who advocate for minorities and diversity in local government.
"Some of us have spent the better part of the past year trying extremely hard to squash that reputation," Christophersson said. "I grew up in Kingman. We always knew (racist attitudes) were here, but we liked to pretend it wasn't. I think what we have more often than blatant racism, we have a system of isolation. We don't have a lot of exposure to other cultures."
While Christophersson said she might have liked to see Gillette removed from her position, Christophersson would at the very least encourage Gillette to receive education on the topic of diversity.
According to Gillette, however, she's done nothing wrong.
"It's untrue," Gillette said Tuesday afternoon. "Nothing I said was racist. The things (critics) read at the meeting were not racist. They want to call everyone who is Republican a racist. As far as I'm concerned, it's my opinion, and I have a right to my opinion. (Gould) appointed me to the commission, and he sees no reason to remove me from it … I'm not ashamed of anything I said."