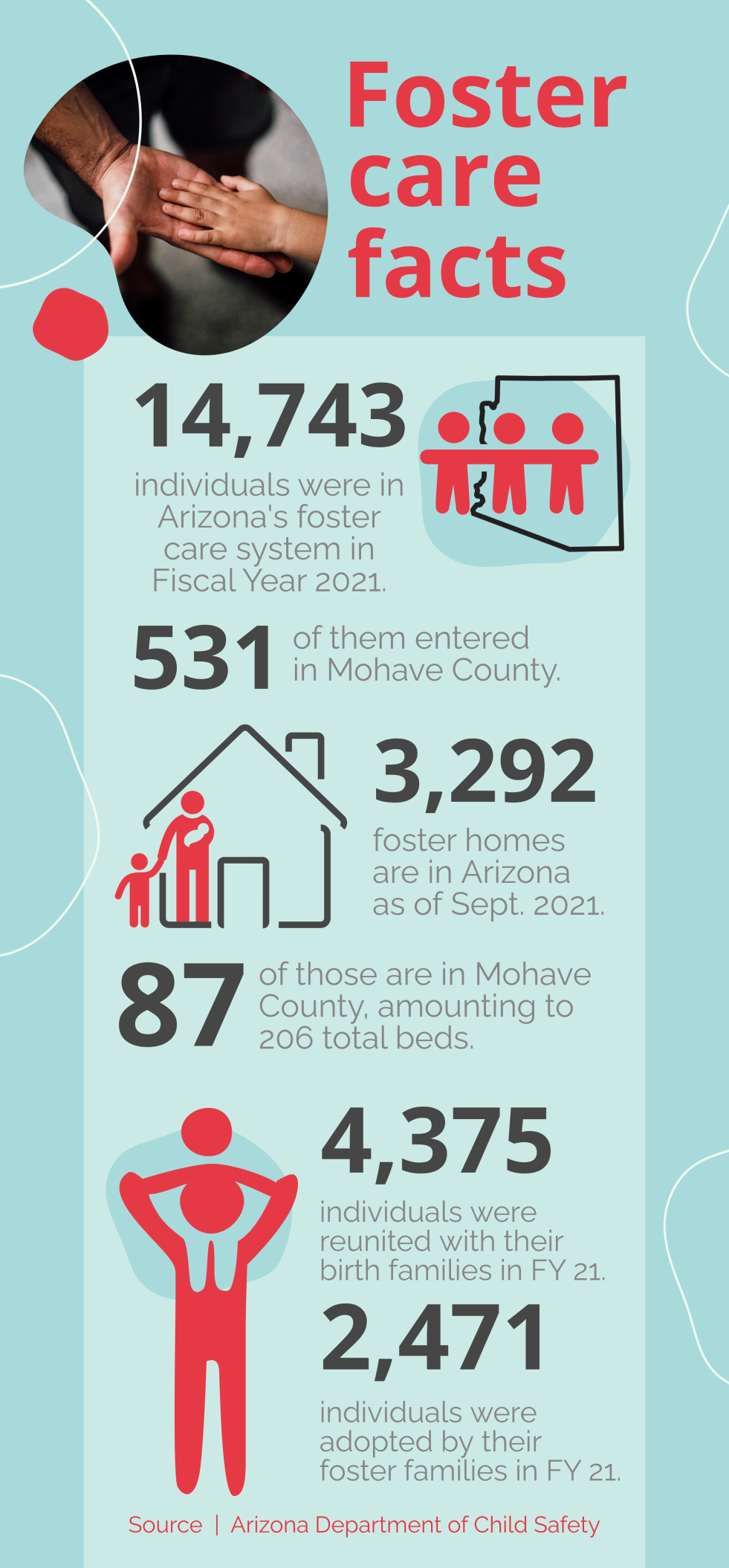 In the holiday season in 2019, Regan and Chris Robertson decided it was time to start a new chapter.
Teri and Kevin Holmgreen have raised three children together, but they've changed the lives …
Back in 2016, Today's News-Herald spoke with the Murrell family while they were training to …
For the past nine years, Lake Havasu City residents Pam and Trevor Nelson have fostered chil…
When Nadia Herion was 13 years old, she was removed from her home after suffering sexual abu…
A variety of situations can trigger the need for a child's removal from a home. While the action is done in the interest of safety, the transition alone is often confusing and traumatic for young individuals — only adding to the distress caused by the reason for removal.
That's why ensuring there are prepared and loving foster families available is essential to the future of our local youth.
In Fiscal Year 2021, 14,743 individuals were in the foster care system state wide. Of that total, 531 were in Mohave County.
Those numbers cast a tall shadow over the available foster homes. As of September 2021, there are 3,292 foster families in Arizona, including 87 in Mohave County, according to Arizona Department of Child Safety and local data.
While the data changes daily, the available pool of foster homes has been shrinking over the last few years, with more than 1,000 fewer homes compared to 2018's numbers. The amount of kids being entered into foster care each year is also on the decline.
But the amount of kids in need certainly still overshadow the number of beds in loving homes. Mohave County Judge Steven Moss of Division Three noted a significant increase of kids being placed into the foster care system in Mohave County a few years ago, but those numbers have decreased since then.
Out-of-home foster care isn't the immediate first step after abuse or neglect is reported.
"In the most general of terms, if DCS gets a report of abuse or neglect, they investigate," Moss explained. "If it is not well-founded, no action is taken. If it is well-founded, they try to correct the problem without removal. If the problem cannot be corrected in-home, they try DAP.  If that is not possible, they seek an out-of-home dependency order. Priority for placement is family, if appropriate family can be found. If not, then it is out-of-home placement foster care. This is no one's preference."
According to DCS Public Information Officer Darren DaRonco, about 43% of placements are kinship care — placement with family — 33% are with licensed foster parents, and the remaining percentage are placed in congregate care settings, such as residential treatment centers and group homes.
To help the placement process move more smoothly, the court most commonly works with CASA — Court Appointed Special Advocates. They're volunteers who make reports and recommendations to the court, which may or may not coincide with DCS', Moss explained.
"Other agencies, such as Southwest Behavioral and Mohave Mental Health, are also involved," he added. "Both parents and children are offered services, ranging from visitation, drug and alcohol testing and counseling, parenting and/or domestic violence classes, etc. Hopefully the reason the children came into care can be alleviated and the parents can make behavioral changes sufficient to ensure the children are safe in their care. If not, a termination or guardianship action can be filed."
In Arizona, there are two populations of individuals in the foster care system — those that are 0-17 years old, and those that have aged out.
In Fiscal Year 2021, 1,170 of the 14,743 individuals in the Arizona foster care system are in the latter category.
"There is a much greater need for older kids when it comes to foster homes because as you can imagine, everyone wants the newborns, everyone wants the toddlers," DaRonco said. "But when it comes to older kids, especially if you're talking about 6 and 7-year-olds and up, there's always a need for that — especially for sibling groups because there are a lot of brothers and sisters that come into care. When you go from zero kids to one kid, it's tough, but then when you go and ask if they can have two, three, four, five kids — that's a big ask. So there's always a need to keep families together the best we can. That's always consistent over the years."
Healthy and functional home environments create healthy and functional individuals. The opposite also holds true.
"Children learn by observing," Moss said. "If they see and/or hear their parents doing something self-destructive and antisocial — or worse, if they are directly involved in that self-destructive, anti-social behavior — it is far more likely that they will mimic it as they mature. Many of the problems we see are multi-generational."
The trauma foster kids experience in their original home environments have lifelong effects.
"That's why it's imperative that we put kids into the most family-like setting possible, so we can begin the healing process as soon as possible," DaRonco said. "... We have a lot of kids who are able to go through the system and go to college, be successful – but it takes the whole community. It certainly starts with the foster parents."
How to become a foster parent
If you're feeling ready to accept more into your flock, here's how you can get started, according to AZDCS.
Contact AZDCS by visiting azdcs.gov or calling 1-877-KIDS-NEEDU to get started.

Educate yourself. It's important to learn the differences between fostering, adoption and kinship care, as well as what you can expect with each level of care. Watch the AZDCS orientation videos to get your questions answered.

Submit the online form. This form, which can be accessed after completing the AZDCS orientation videos, will officially start your process towards fostering and allow you to be paired with agencies that share your values and support you best during the process.

Select an agency. This is your chance to interview as many agencies as you'd like and find the perfect fit for you.

Work towards licensure. This stage will include various assessments that will dive into your medical, financial and criminal history.

Additional training. Depending on your chosen agency, you will receive additional training before child placement. This training is not required for kinship placements.

Life safety inspection. An agency representative will complete a home study with your family to ensure a safe environment.

Licensure. This is the final checkmark to complete in order to become an official foster parent. Through AZDCS and your agency, you will have access to 24/7 support, specialized training, ongoing team meetings and regular visits.

Welcoming a child. It's time to work with your agency and start caring for children.
If becoming a foster parent doesn't work for your current situation, there are still plenty of ways you can help kids get the help they need.
Donate material goods. Foster families are often in need of cribs, beds or clothes. You can donate these items to one of DCS's partner agencies. For more information on how to donate, email the DCS Community Liaison at Volunteer@azdcs.gov.

Take advantage of the foster care tax credit. Put your tax dollars towards charitable organizations that provide services to Arizona's most vulnerable children. Individual filers can qualify for up to a $500 tax credit while married couples qualify for up to a $1,000 tax credit.

Mentor a child in foster care. Mentoring a child who lacks permanency can have a lifelong impact on a young person. If you would like more information on mentoring, email the DCS Community Liaison at Volunteer@azdcs.gov.

Volunteer to be a Court Appointed Special Advocate. CASAs are appointed by a judge to advocate for abused and neglected children in court. You can learn about becoming a CASA at azcourts.gov/CASA.

Register your church with CarePortal. Careportal.org connects local churches with families in crisis.

Host an event for foster families. If you own a business, consider holding an event for foster families to enjoy. If interested in hosting an event, email the DCS Community Liaison at Volunteer@azdcs.gov.

Launch a fundraiser for foster children. Fundraisers are a great way to get the community involved to help children in foster care with school supplies, scholarships, or toys for the holidays. If you would like to hold a fundraiser, email the DCS Community Liaison at Volunteer@azdcs.gov.

Donate to one of DCS's partner foster care organizations. In addition to the tax credit, you can give directly to any foster care group. To learn how, email the DCS Community Liaison at Volunteer@azdcs.gov.

Consider becoming a respite care provider. If you're not able to become a foster parent, but still want to help out, you can become a licensed respite care provider. Respite providers offer short-term childcare solutions for foster parents. For more information on respite care, visit dcs.az.gov.